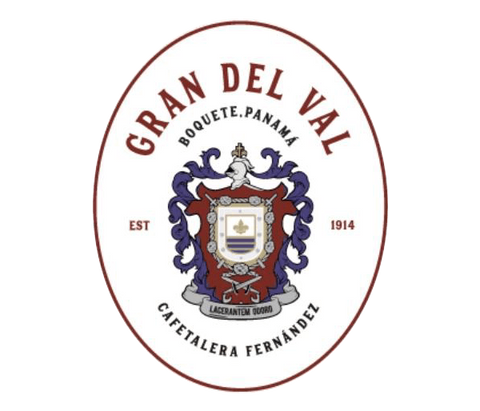 Gran del Val Coffee, a brand that represents four generations dedicated to the cultivation of coffee under the legacy of its Gladys, Gran Paraíso and La Fortuna farms. Its history takes us back to 1914, where its first plantation was founded. Then, the second generation continues in 1991 under the direction of Ricardo Fernandez Carazo and his wife Teresita de Dianous, maintaining the family tradition to date. See more
The years have led Gran Del Val to cross the borders of the world where it was born to countries such as Japan, Germany, Taiwan, USA, Australia and Portugal, among others.
Currently it is also exploring the roasting of its varieties such as Typica, Geisha, Caturra, Catuai and Java, giving way to enjoy a cup of coffee full of aroma, acidity, body and excellent balance.
Their commitment to preserve the environment led them to build the first ecological coffee processing plant in the region in 1997 and to certify their farms, processing and distribution, under Rainforest Alliance NY and Hiro Coffee, Japan

@cafegrandelva

GRAN DEL VAL